The Midlands Orthodontic Specialists in Birmingham
Free video smile assessments
We offer FREE 3D scan (rrp. £330) plus FREE retainers (rrp.£300) and 20% OFF Teeth Whitening with all orthodontic treatments.
Discuss your perfect smile without leaving the house.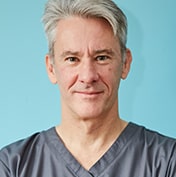 Rob Slater
BDS, FDSRCS, MOrth, MSc
Specialist In Orthodontics
(GDC No. 65931)
Unusually for a specialist orthodontist Rob began his career as a dental technician, giving him a deep understanding of orthodontic appliances. Rob was the first clinician in the Midlands to regularly deliver lingual braces, and he is a founding member and former chairman of the British Lingual Orthodontic Society (BLOS), which awarded him a life membership in 2014.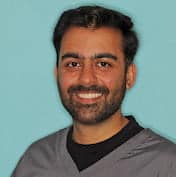 Devesh Shelat
BDS, MFDS RCS, MOrth RCS, MSc, RACDS
Specialist In Orthodontics
(GDC No. 209758)
Dev graduated as a dentist from the University of Manchester in 2011. Having then decided to move back to his home city of Birmingham, he then spent several years across various hospitals in the West Midlands. He acquired further skills in general dentistry, oral and maxillofacial surgery, community and paediatric dentistry, orthodontics and finally oral medicine. During this time he was awarded the Membership of the Faculty of Dental Surgeons from the Royal College of Surgeons Edinburgh. Dev particularly enjoyed his time at the Birmingham Dental Hospital and Birmingham Children's Hospitals.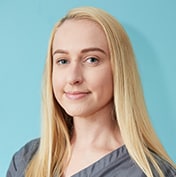 Lauren Collis
Orthodontic Care Nurse
(GDC No. 141104)
Lauren joined the practice in 2009. A qualified dental nurse, she has also undertaken a dental radiography certificate. Lauren feels that orthodontics is an amazing part of dentistry because it helps people of all ages gain the confidence to smile again.
She says, "Orthodontics is a journey you go through with your patients to achieve their perfect smile."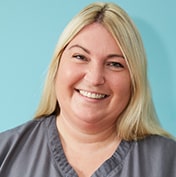 Becky Wall
Orthodontic Care Nurse
(GDC No. 119922)
Becky started her career in dentistry as a dental nurse in 2007. She has completed a course in dental radiography and now works as a care coordinator, as well as assisting in the surgery.
In the future she would like to train as an orthodontic therapist. Becky's favourite part of working in orthodontics is seeing the end results of treatment and how happy the patients are when they look back at their before and after pictures.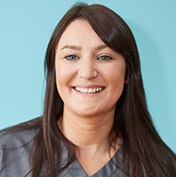 Carol O'Callaghan
Treatment Coordinator
(GDC No. 162448)
Carol started her career as a dental nurse in 2002. She joined us in September 2014 to cover maternity leave, was subsequently offered a permanent position and is now in the role of treatment coordinator.
Carol says, "I enjoy being involved in the patient's journey from start to finish and seeing how happy they are at the end of treatment."
Elaine Din
Practice Manager
Elaine joined the practice in 2004 as an orthodontic nurse, taking over as practice manager in 2007. Thanks to Elaine combining her clinical knowledge with an approachable and warm style we offer an outstanding patient journey at One Devonshire Place, built around good communication, organisation and efficiency.
Elaine enjoys working in orthodontics because she likes to see patients of all ages enjoying their new smiles. In recent years she has noticed an increase in adults choosing to have braces fitted and feels privileged to help these patients access innovative system such as invisible fixed lingual braces.