The Midlands Orthodontic Specialists in Birmingham
NHS Orthodontic Treatment Referrals
Your first step is to speak to your dentist. They will look at your teeth closely and they may take pictures and measurements before organising the referral to us. Once you reach our practice, our specialists will assess your teeth and determine if you are eligible for NHS orthodontic braces.
The NHS provides orthodontic treatment
for children under the age of 18 with a
clear, clinical need.
This is assessed according to a set of graded criteria called the Index of Orthodontic Treatment Need (IOTN). If your child meets grade 4 or 5 then they are eligible. Examples of problems that would meet this grading would be multiple missing teeth that require gap closure, severe teeth overcrowding or a severe overbite.
Why choose One
Devonshire Place
for orthodontics?
More than 10,000 cases completed
Specialist orthodontists have extra training and experience
More choice with our full range of systems
Private treatment = no waiting lists
Pay as you go
Free onsite parking
Open 6 days a week
Trusted by 200 referral dental practices across the Midlands
What To Expect
An initial assessment to determine whether your child
meets the criteria for orthodontic treatment under the
NHS. There will be a more restricted range of treatment
options available than would be offered privately. If
your child is treated with fixed standard braces then
they are likely to be wearing their appliance for around
18 to 24 months. During this time, they'll need to see
us every six weeks or so to have their braces adjusted.
They'll be advised to avoid hard, chewy food and fizzy
or acidic drinks for the duration of their treatment.
Your child will be on a waiting list and it could be
a long time before they begin treatment.
Learn about our patient journey
'I wasn't going to see anybody other
than Rob…I'd seen enough
orthodontists…the minute I walked in
I liked him.'
'It's definitely helped my confidence.
I don't mind smiling normally
instead of having to smile awkwardly
with my mouth closed.'
'The maximum amount of time was
2 hours and then I could just come here
straight away, so within the day of breaking
my brace I could get it fixed.'
'He listened to what it was
exactly I wanted. What was best
for me as well.'
'I know I can ask him
anything… I always feel very
comfortable coming and I enjoy
my visits.'
Meet our specialist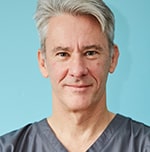 BDS FDSRCS MOrthRCS MSc, Specialist in Orthodontics
Pioneering founder and former chairman of the British Lingual Orthodontic Society
Worked as an examiner, trainer, noted publisher and international lecturer
Began his career as a dental technician, creating orthodontic appliances