The Midlands Orthodontic Specialists in Birmingham
Free video smile assessments
We offer FREE 3D scan (rrp. £330) plus FREE retainers (rrp.£300) and 20% OFF Teeth Whitening with all orthodontic treatments.
Discuss your perfect smile without leaving the house.
Forming an accurate model of the contours
of your teeth and gums is vital to planning
effective orthodontic treatment.
This requires having impressions made, a process that is messy and that for some feels invasive.
Although we still use impressions for some processes (such as the construction of retainers), many patients will be glad to know that modern technology has allowed us to reduce the use of the technique by replacing it with 3D digital scanning.

Why choose One
Devonshire Place
for orthodontics?
More than 10,000 cases completed
Specialist orthodontists have extra training and experience
More choice with our full range of systems
Private treatment = no waiting lists
Pay as you go
Free onsite parking
Open 6 days a week
Trusted by 200 referral dental practices across the Midlands
What To Expect
A much cleaner and more comfortable experience
than you may have had in the past with impressions.
Quicker and more accurate treatment.
Learn about our patient journey
Reduces the need for messy and uncomfortable impressions
You can clearly see the structure of your teeth onscreen
from any perspective
Expedites treatment and makes dialogue with outside labs
and dentists more efficient
Your specialist orthodontist can demonstrate virtually how
your treatment will work
'I wasn't going to see anybody other
than Rob…I'd seen enough
orthodontists…the minute I walked in
I liked him.'
'It's definitely helped my confidence.
I don't mind smiling normally
instead of having to smile awkwardly
with my mouth closed.'
'The maximum amount of time was
2 hours and then I could just come here
straight away, so within the day of breaking
my brace I could get it fixed.'
'He listened to what it was
exactly I wanted. What was best
for me as well.'
'I know I can ask him
anything… I always feel very
comfortable coming and I enjoy
my visits.'
Meet our specialist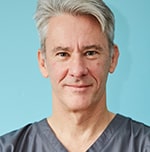 BDS FDSRCS MOrthRCS MSc, Specialist in Orthodontics
Pioneering founder and former chairman of the British Lingual Orthodontic Society
Worked as an examiner, trainer, noted publisher and international lecturer
Began his career as a dental technician, creating orthodontic appliances